Premium Nickel Resources Botswana (PNRB) is dedicated to the exploration and development of high-quality nickel-copper-cobalt (Ni-Cu-Co) resources. We believe that the medium to long-term demand for these metals will grow through continued global urbanization and the increasing replacement of internal combustion engines (ICE) with electric motors (EV). Importantly, these metals are key to a lowcarbon future. 
PNRB submitted an extensive Indicative Offer in June 2020 to be considered as a bidder to acquire the former producing Ni-Cu-Co assets previously operated by BCL Limited, and currently in liquidation in Botswana. This process is still underway. Our long-term strategy includes disciplined cost controls to ensure profitable operations and maintained stakeholder benefits for the full life of the operations. 
PNRB is looking to become a catalyst in participating and building a strong economy for Botswana, with a purpose where respect and trust are core to every single step that will be taken.  Our success will mean following international best-in-class practices for the protection of Botswana's environment and the focus on its people, building partnerships and earning respect, through cooperation a collaboration. We are committed to Governance through transparent accountability and open communication within our team and with all our stakeholders. 
PNRB is a wholly owned subsidiary of Premium Nickel Resources. Please visit Premium Nickel Resources Corporation for more information. 
PNRB's approach to the full enactment of its vision, from the day it invests to the day it leaves the land it has operated on, is fully embedded in the commitment of functioning in a strong sustainable framework. Compliance with the highest international standards for the protection of the environment, as well as the socio-economic ecosystem, governed by strong policies and systems shall prevail throughout.
Most importantly PNRB commits very early on and well ahead of any tangible actions being taken, to proactively, openly and continuously engage with all stakeholders, so that they may share and provide input and feedback, and so PNRB can understand and learn how to best address concerns and integrate solutions into its operations.
PNRB's strategy is to invest with responsible corporate behaviour, implementing new and innovative technologies that are environmentally friendly and setting up operations that will have the smallest footprint possible for when it does stop and after remediation.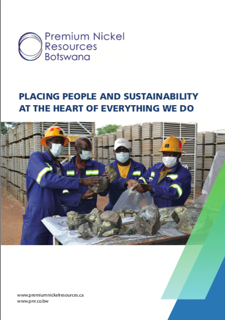 PNRB maintains a skilled team with strong financial, technical and operational expertise. Committed to Governance through transparent accountability and open communication within our Management team and stakeholders

Montwedi Mphathi was born in Botswana where he got his early education. After his high school he got a scholarship to study in Canada and obtained a Diploma in Mining Technology from Haileybury School of Mines. He later obtained a B.Eng Mining degree from the Technical University of Nova Scotia. While studying in Canada, he did vacation work in mines in British Columbia, North West Territories and Manitoba. After completing his education in Canada he went back to Botswana to start his mining career. After a few years he earned a scholarship to study at City University in London, UK and obtained an M.Sc in Industrial and Administrative Sciences. While in the UK, he had industrial attachment at the tin mines in Cornwall, a lead-zinc smelter in Avonmouth and a cement factory in Hertfordshire.
Monty has over 35 years in operations management including leadership roles at BCL Mining and Smelting and Botswana Ash. He was the first Botswana citizen to lead both businesses, where he was credited with improving safety, productivity and profitability. He has experience in managing in-house mine development projects including stand-alone mines and shaft extension. Mr. Mphathi has extensive experience developing and sustaining productive working relationships with stakeholders from employees, labour unions, suppliers, customers, regulators, lenders to communities.
Mr. Mphathi is currently the President of the Botswana Chamber of Mines, an organization whose aim among others is to influence government policy for the benefit of the mining industry and the economy at large. He is also a Botswana University of Science and Technology council member and chairman of the HR subcommittee.

Mr. Kneipe Setlhare is a mining engineer with over 14 years of experience in mining operations management, including roles with BCL Mines and Smelting as mine supervisor and business improvement coordinator from 2006 to 2011, and later joined Australian firm Discovery Metals Limited where the Boseto Copper project was successfully commissioned into production until its unfortunate liquidation in 2014. Kneipe is the founder of Marcelle Holdings Limited, a local prospecting and Exploration Company which successfully vended some of its prospecting licenses to Giyani Metals Corp in 2016. He is currently Executive Country Manager at Giyani Metals Corp, a public company listed in Toronto Stock Exchange and he is in charge of compliance with Government regulations, stakeholder consultation and managing community relations, contractor management and country office administration, ensuring that the company stays in good standing order as a subsidiary of public company. He is also the Country Manager of Premium Nickel Resources based in Gaborone. Mr. Setlhare has years of experience managing both private and public companies involved in early stage exploration, preliminary economic assessment, feasibility study at Giyani Metals, mine development and commissioning at Discovery Metals , mine asset acquisitions and disposals at Lerala Diamond Mine and Mowana Copper Mine.

Mr. Riopel is an accomplished senior-level executive with over 25 years domestic/international investment experience in mining. He has managed over the year's both private and public investment funds. He is the founder and managing partner at Latitude 45, a private equity fund specialized in mining. Prior thereto, he was Senior Investment Director at The Sentient Group, one of the largest PE Funds in mining with over US$2.7 billion under management. At The Sentient Group, he worked on and completed 12 follow-on investments as well as one exit – actively managing investments and re-engineering projects in copper, gold, uranium, nickel and manganese.
From 2006 to 2012, he served as Senior Investment Director Metals, Metallurgy & Mining at the SGF, a public fund with over US$5.0 billion under management. During these years, he invested approximately US200M$ per year in mining projects, from greenfield exploration to operations, directly managing drilling programs to approximately US$ 6 billion in construction. While working at the SGF he invested in, directly managed, turned around and exited more than 20 investments and mining projects.
On several occasions throughout his career, he was directly responsible for the re-engineering of mining projects from geology to construction, delivering outstanding returns to investors. He has worked on several investment projects that are located in Africa, and has ties going back to the creation of LionOre Mining International in July 1997 and the purchase of Tati Nickel Mining by LionOre Mining International from Anglo American in 2002.
He was appointed to the Board of Directors of Premium Nickel Resources in 2019 and is currently Chairman of the Board of Directors of PNR. He is also Interim-Chairman of the Board of Directors of North American Nickel (mining exploration – Ni), Chairman of the Board of Directors of Meridian Mining SE (mining Cu-Au-Mn), and a member of the Board of Directors of Aligo Innovation (VC Fund), and the Foundation of Greater Montreal (local charity managing over US250M$ in charitable donations). He has served as a director and/or officer of several Canadian and international companies. He holds a Bachelor of Economics from Montreal University and a Masters in Business Administration from Laval University.

Keith has continuously served on resource and technology, private and public company Boards of Directors since 1986, and as a CEO since 1988. During this period, Keith has been in leadership positions during multiple commodity cycles and through several black swan events including Bre-X (1997), 9-11 (2001), Lehman Brothers (2008) and the Covid-19 Pandemic (2020).
In 1986 Keith co-founded Quantec Geophysics, a leading global technology/resource service company in Canada. He moved to the US in 1988 to open Quantec's first foreign subsidiary, working applying deep exploration technologies to the emerging Carlin style gold deposits. The company implemented a globalization strategy of creating advanced subsurface imaging technologies, and providing these as a proprietary service, through a network of wholly owned international subsidiaries. The application of these technologies played a major role in the discovery of the Collahuasi Copper mine in Chile in 1990. This enabled Quantec to dominate porphyry copper geophysical exploration in Latin America.
In 1992 Keith began market development in China and Mongolia. Ultimately this led to the co-founding of QGX Limited and the discovery and development of Baruun Naran coal resource, which was sold in 2008 for $300M.
In 1997 Keith completed a C$7.5mm equity financing in Quantec with Falconbridge and Barrick Gold to fund the development of the Titan24 brownfield deep exploration system. This revolutionary system combined full pre-stack, time-series data with distributed, simultaneous, spatial over sampling of broad band electric and magnetic fields, to enable high precision electrical imaging to 1500m depths. The system's high-quality data supported the advancement of Common Earth Modeling technologies advancing inversion capability to integrate calibrated petrophysical 3-D geological reference models.
The long-term relationship with Falconbridge enabled Quantec to provide advanced geophysical imaging solutions to their global nickel exploration and mine assets.
By the time Keith retired from Quantec in 2008, and began to lead a non-competitive high technology defense/resource imaging firm, the company had completed over 3000 projects, in more than 50 countries, opened domestic subsidiaries in 12 countries and was partially owned by Barrick and Xstrata. It had averaged an 18% revenue growth rate for the 22 years. The company had never lost money on an individual contract, due to a corporate culture committed to real-time on-site project management and honest, safe, hard work.
Since 2000, Keith has led multiple risk-equity financings, totally over C$100M in equity. Sources of capital ranging from high net worth individuals, family offices, private equity, public institutions, public retail, major corporate strategics, sovereign wealth funds and pensions.
Keith is currently CEO and a Director of Premium Nickel Resources. He is also CEO and Director of TSXV listed North American Nickel Company. The company is a leading data driven nickel-copper-cobalt exploration company with a strong capital table supported by Sentient EP (Australian PE), Duke University Endowment (DUMAC) and Contemporary Amperex Technologies Limited (the largest Li-Ion manufacturer in the world based in Ningde, China). NAN is executing a global strategy to develop high quality Ni-Cu-Co assets in countries that have clear Rule-of-Law and that make economic sense using conservative long-term commodity prices. The company's main assets are in Greenland, Canada and the United States.
On a private investment basis, Keith is a partner in 50 King Capital (a private Merchant Bank) that looks at stressed resource assets for growth opportunities. In 2015, 50 King Capital purchased all of the Cliffs Natural Resources' non-producing assets as the company was collapsing towards bankruptcy. He is an Honors graduate in Engineering from Queen's University (1978) and the Rotman Business School ICD program (2009). Keith is a member of the Association of Professional Geoscientists (APGO number 0676) and the Institute of Corporate Directors (ICD).